MAIN PROGRAM
Wednesday, October 2
KICKOFF AND WELCOME
1:00 p.m.
"AROUND CO-OP COUNTRY"
1:15 p.m.
The 2019 Michigan Electric Cooperative Symposium program begins with a look around the nation as Tony Anderson, Cherryland Electric Cooperative general manager and National Rural Electric Cooperative Association board secretary, and Jay Morrison, vice president of regulatory issues at NRECA, provide updates from NRECA.
TONY ANDERSON
General Manager
Cherryland Electric Cooperative
Tony Anderson took over as General Manager of Cherryland Electric Cooperative in March of 2003. Cherryland serves 35,000 homes and businesses across six counties in northwest Michigan's Grand Traverse Region. Anderson has been in the electric cooperative business for more than 35 years and previously managed cooperatives in Wisconsin and Wyoming.
Anderson has served on the National Rural Electric Cooperative Association Board of Directors since 2008. He is also the current Vice-President of the Michigan Electric Cooperative Association Board of Directors.
Tony is actively engaged in his community. He was the recipient of the 2018 Traverse City Area Chamber of Commerce Distinguished Service Award and 2012 Governor's Service Awards Michigan Volunteer of the Year. He is currently a member of the Traverse City Rotary Club, and a board member and past President of Big Brothers Big Sisters of Northwestern Michigan.
JAY MORRISON
Vice President, Regulatory Issues
NRECA
 Mr. Morrison leads the Regulatory Issues Unit of NRECA's Government Relations Department, where he works with a staff of professional advocates representing NRECA and its members on matters relating to federal and state utility and environmental regulation, power supply and delivery. Since joining NRECA in 1998, Mr. Morrison has worked extensively on issues relating to wholesale market design, power supply and delivery, industry restructuring, renewable energy, energy efficiency, distributed generation, and the smart grid. 
In 1993, Mr. Morrison earned his MPP, from the John F. Kennedy School of Government and his JD, magna cum laude, from Harvard Law School where he served on the Harvard Law Review. Mr. Morrison earned his BA summa cum laude from UCLA in 1989. Mr. Morrison has also clerked for the Honorable A. Raymond Randolph on the D.C. Circuit, served as counsel to the U.S. Senate Committee on Labor and Human Resources, and represented cooperatives and other clients before the Federal Energy Regulatory Commission, Congress, and the courts with the firm of Paul, Hastings, Janofsky & Walker. 
Mr. Morrison is active with the Energy Bar Association where he presently serves as a "Dean" for the primer program, the Energy Law Journal for which he is an editor, and the American Bar Association Infrastructure and Regulated Industries (IRIS) Section for which he is a member of the Council and a vice-chair of the electricity committee. 
"LEADING FROM THE FRONT"
2:15 p.m.
Leading from the Front is a leadership philosophy Angie Morgan learned in the Marine Corps, a vibrant culture centered on three values: Honor, Courage, and Commitment. She'll share how when organizations are clear on their values, they're able to inspire others to develop and promote the culture the organization aspires to achieve.
In this keynote, Angie will share best practices she's observed inside the world's best businesses as a consultant with 15+ years helping develop talent. She's had keen insight into companies like Facebook, Google, Marathon Oil, and many smaller–and equally impressive–organizations.
Angie and Shari Culver, vice president of communications and member services at Great Lakes Energy, will discuss the work Angie and the Lead Star team performed at Great Lakes, and how it benefits its members.
ANGIE MORGAN
NY Times Best-Selling Author, Leadership Expert and Founding Partner
Lead Star
 Shortly after launching her professional career, Angie saw a need in the workplace: professionals consistently showed the capacity to be leaders, but no one was actively helping them get there. 
Angie founded Lead Star to help professionals understand how they can achieve greater success by implementing leadership practices into their work routines. Her remedy: designing leadership programs that are culturally relevant for her clients and focused on results. 
Angie is the New York Times and USA Today best-selling author of SPARK: How to Lead Yourself and Others to Greater Success and Leading from the Front. She has written numerous articles on leadership and organizational excellence appearing in a wide variety of publications including Forbes, Fast Company, and SUCCESS. She's been a dynamic guest on CNBC, FOX News, and CNN. 
Angie also served as the Director of the Center for Creative Leadership's Partner Network, convening and connecting leading consultancies with the Center's innovative thought leadership, research and development solutions. 
Prior to creating Lead Star, Angie worked for Pfizer and Merck as a sales professional where she had firsthand experience working in business operations. This results-oriented mindset is brought to every project she is engaged in. 
Angie's leadership expertise formed after she graduated from the University of Michigan and served as an officer in the United States Marine Corps. She also holds an MBA from the Ross School of Business at the University of Michigan. 
Angie is the mother of two young boys and wife of a retired Marine Corps officer. When not at work, you can find her absorbed in a book or trail running near her home in Northern Michigan. 
SHARI CULVER
Vice President, Communications & Member Services
Great Lakes Energy
Shari Culver is the Vice President of Communications and Member Services for Great Lakes Energy Cooperative. Shari has been with the co-op for 22 years and manages the member services, administrative support and communications and marketing departments.  She is responsible for member services at the co-op's eight offices, internal and external communication efforts, community relations and Energy Optimization programs. She is also involved in the strategic direction of the cooperative's culture initiatives and most recently the launch of their fiber internet and voice network, Truestream.
Shari holds a Bachelor of Science in Communications / Advertising / Public Relations from Grand Valley State University and is currently pursuing a Master of Science in Management, Strategy and Leadership from Michigan State University. She completed the National Rural Electric Cooperative Association Management Internship Program in 2011. Shari serves as Vice President of the Boyne Area Chamber of Commerce board of directors and lives in Boyne City, MI with her husband and children.
CO-OPS GIVE!
3:30 p.m.
Ronald McDonald House of Western Michigan provides a 'home-away-from-home' for families traveling to Grand Rapids for critical medical and mental health treatment for their children, including many from cooperative communities. This year, Michigan's Electric Cooperatives are supporting their efforts by donating much-needed items for the house. 
RECEPTION
5:30 p.m.
Join your colleagues for an evening of networking at the Amway Grand Pantlind Ballroom.
Thursday, October 3
Craig Borr, president and chief executive officer of the Michigan Electric Cooperative Association, opens the second day of the 2019 Symposium with a discussion on current issues and initiatives of the state-wide association.
CRAIG BORR
President & CEO
Michigan Electric Cooperative Association
"THE BUTTERFLY EFFECT"
8:45 a.m.
Environmental stewardship and cooperation among cooperatives are two core cooperative principals. Learn from Joe Hazewinkel, natural resource specialist at Wolverine Power Cooperative, and Janelle Lemen, regulatory director of environmental policy at NRECA, as they discuss local, regional, and national best practices and collaboration in right-of-way management for habitat and pollinator preservation.
JOE HAZEWINKEL
Natural Resource Specialist
Wolverine Power Cooperative
Joe Hazewinkel began his career with Wolverine Power Cooperative as utility forester in 2011, responsible for the vegetation management program. Hazewinkel since transitioned to further environmental responsibilities, including natural resource impact permitting (soil erosion, wetlands, herbicides, USFS, SPUT permits, etc.) and environmental policy.
Prior to his career at Wolverine, Hazewinkel spent more than two decades working in wetland delineation, threatened/endangered species studies, environmental impact studies, and regulatory interpretation.
Hazewinkel earned his Bachelor of Science degree in Fisheries and Wildlife from  Michigan State University.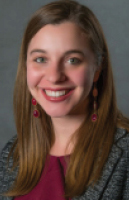 JANELLE LEMEN
Regulatory Director, Environmental Policy
NRECA
Janelle Lemen is a regulatory director at the National Rural Electric Cooperative Association (NRECA), where she advocates on behalf of cooperatives on issues regarding endangered species, land use, siting and permitting. Prior to NRECA, Janelle was a land and water resource analyst at Associated Electric Cooperative in Springfield, MO. Janelle has a Master's in biology from Missouri State University and Bachelor of Science degree in biology from Wingate University.
"STATE OF THE STATE OF ENERGY"
9:45 a.m.
In 2019, the State of Michigan transitioned to new leadership with the election of Governor Gretchen Whitmer.
Liesl Eichler Clark, director of the Michigan Department of Environment, Great Lakes, and Energy, joins the 2019 Symposium to provide an update from the new Administration with a focus on government policy as it relates to energy, infrastructure, and the environment.
LIESL EICHLER CLARK
Director of the Michigan Department of Environment, Great Lakes, and Energy
State of Michigan
Liesl Eichler Clark is Director of the Michigan Department of Environment, Great Lakes, and Energy. Director Clark was appointed by Governor Gretchen Whitmer effective January 1, 2019. Her previous position was co-founder and partner of 5 Lakes Energy, a policy consulting firm that serves businesses, policymakers, and other stakeholders seeking to advance the transition to a clean energy economy.
Director Clark, a Howell resident, has also served as president of the Michigan Energy Innovation Business Council and as deputy director for energy programs at the Michigan Department of Energy, Labor, & Economic Growth. Liesl was a critical catalyst for Michigan's clean energy efforts beginning in 2008, and the application of her work after leaving state government resulted in the formation of Michigan's first trade association dedicated solely to the emerging clean energy industry in this state – the Michigan Energy Innovation Business Council (EIBC). Since founding the EIBC, Liesl has been instrumental in building relationships between the clean energy business community and state and federal policymakers while collaborating with energy experts and regulators to spearhead innovative energy policy.
She held a series of roles involving natural resources, environmental and agriculture policy in state government from policy advisor in Governor Jennifer Granholm's office to legislative liaison for the Michigan Department of Agriculture.
Liesl completed a Master's degree in Public Administration from Michigan State University while working full-time, and holds a Bachelor of Arts degree in Political Economy from MSU's James Madison College. She has completed the Great Lakes Leadership Academy and serves on the board of Advancing Women in Energy.
"MARIJUANA & CO-OPS: LESSONS FROM COLORADO COLLEAGUES"
10:50 a.m.
KENT SINGER
Executive Director
Colorado Rural Electric Association
Kent L. Singer became CREA's Executive Director on January 1, 2010. Singer had been CREA's general counsel since 1996, representing the association in public utility and legislative matters. Prior to becoming CREA's Executive Director, Singer was also corporate counsel for Tri-State Generation and Transmission Association, and general counsel for Holy Cross Electric Association.
Singer was a founding member of the Board of Advisors for the Electric Cooperative Bar Association, and is currently a member of that association as well as the Denver and Colorado Bar Associations.
A native of Kansas, he and his wife, Deborah, have resided in Denver for 28 years. Singer is a graduate of Kansas State University with a Bachelor of Science degree and received his juris doctor from the University of Kansas School of Law in 1984.
LOREN HOWARD
CEO
San Luis Valley Rural Electric Cooperative
Loren H. Howard is the Chief Executive Officer of the San Luis Valley Rural Electric Cooperative, Inc. (SLVREC) headquartered in Monte Vista, Colorado. SLVREC has provided electric service to portions of seven counties in southwest Colorado located in the San Luis Valley for more than 80 years. SLVREC has 7,500 members, 50 employees and annual revenues of $30,000,000. SLVREC recently created a broadband enterprise, Ciello, Inc. which is building a fiber-to-the-premise (FTTP) network throughout the San Luis Valley. Ciello provides both gigabit Internet services and VOIP telephone services to the residential and commercial residents of the San Luis Valley.
Prior to joining SLVREC in November of 2011, Howard was employed for 25 years by the Holland Board of Public Works (HBPW), Holland, Michigan, a $100 million, 180- employee municipal utility. Howard was the General Manager for his last five years with the HBPW. Prior to his selection as General Manager, Howard held various positions with the HBPW including Power Resources Director, Sales and Marketing Director and Electric Services & Technology Director.
Howard worked for various organizations throughout his career including Packaging Corporation of America (1982-1987), Century Boat Company (1977-1982) and Colorado Department of Highways (1976-1977).
Howard joined the U.S. Coast Guard in 1972, attending Officer Candidate School in Yorktown, Virginia where he was commissioned as an Ensign. He continued to serve in the U.S. Coast Guard Reserve after his release from active duty in 1975. Howard retired from the Coast Guard in 1994 with the rank of Commander, ultimately serving in various command positions including Commanding Officer, Reserve Unit Grand Haven and Great Lakes Group Commander.
Howard is a graduate of Michigan Technological University with a Bachelor of Science degree in Mechanical Engineering and is a Registered Engineer in Colorado. He holds a Master's in Business Administration from Western Michigan University and a graduate certificate in Database Management from Grand Valley State University.
Howard is a rock climber, mountaineer and runner. He enjoys playing the piano, developing software for industrial control systems and rebuilding old Jeeps in his spare time. He and his wife, Karen have two married children with four grandchildren in Broomfield, Colorado and four grandchildren in Albuquerque, New Mexico.
SHELLY EDGERTON
Government Policy Counsel
Dykema
Shelly J. Edgerton is a senior counsel in Dykema's Government Policy Practice Group. Ms. Edgerton's practice focuses on cannabis licensing and compliance, legislation, campaign finance and election law, liquor licensing and compliance, and working with other regulated industries.
Ms. Edgerton led the creation for the regulatory licensing program for the State of Michigan's Medical Marihuana Facilities Licensing Act (MMFLA) at LARA. She created the Bureau that houses the program and assisted with the creation of administration rules and selection of personnel and IT development for addressing the regulatory needs of this emerging industry. Ms. Edgerton is a frequent speaker on cannabis licensing.
Ms. Edgerton successfully guided the modernization of numerous legacy IT systems for the licensing and regulatory functions of LARA. With these changes, LARA improved customer response timeliness by cutting more than 30 key processing times by 77%.
In addition to government relations and licensing work, Ms. Edgerton served as a local elected supervisor for a West Michigan Township and wrote successful grant applications for the locality to earn funds to purchase a fire vehicle.
Ms. Edgerton served as Deputy Senate Majority Counsel for numerous Senate Majority Leaders. She instructed and guided members regarding the Constitution, Senate Rules, Open Meetings Act and the Freedom Of Information Act while also assisting with election and campaign finance issues.
When the state of Colorado legalized recreational marijuana eight years ago, Colorado electric cooperatives were on the front lines facing the implications of growing operations on their electrical systems.
In this discussion, Kent Singer, executive director of the Colorado Rural Electric Association, and Paul Erickson, chief executive officer of the Sangre de Cristo Electric Association, bring their experience to Michigan to discuss the impact of the cannabis industry on Colorado electric cooperatives, and what Michigan cooperatives may need to prepare for in light of changing laws. Shelly Edgerton, government policy director at Dykema, will moderate this panel as well as contrast and compare Colorado and Michigan laws.
"THE RIPPLE EFFECT"
1:10 p.m.
At the 2018 Michigan Electric Cooperatives Symposium, Brad Livingston shared his heart-wrenching story of surviving a tragic work accident, and the impact it had on his loved ones.
This year, Brad's daughter joins the Symposium to share her perspective about the impact almost losing her father had on her life.
Kayla's goal is to remind her audiences that the decisions you make don't just affect you, but those you love, and she hopes to inspire employees to make safe choices that will allow them to go home to their families each night.
KAYLA RATH
Motivational Safety Speaker
Safety Difference
WOLVERINE & POWER SUPPLY UPDATE
2:20 p.m.
The 2019 Michigan Electric Cooperatives Symposium concludes with Eric Baker, president and chief executive officer of Wolverine Power Cooperative, discussing power supply issues affecting all electric cooperatives, as well as the generation and transmission cooperative's focus and outlook. 
ERIC BAKER
President & CEO
Wolverine Power Cooperative
ADDITIONAL EVENTS
COMMUNICATORS CONFERENCE
Omihachiman
Noon – 4 p.m., Tuesday, October 1. Dinner to follow.
FIBER DISCUSSION
Griffin
9 – 11 a.m., Wednesday, October 2
MEMBER RELATIONS CONFERENCE
Omihachiman
10:30 a.m. – Noon, Wednesday, October 2
HUMAN RESOURCES CONFERENCE
Zapopan
9 – 11:30 a.m., Wednesday, October 2